AM/FM – DAB – GSM – GPS – TV aerials and DAB Splitters
Code: 35.066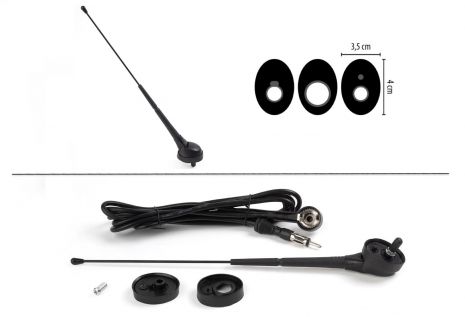 Universal AM-FM Roof aerial
Universal AM-FM aerial roof mount with 3 different rubber gaskets
Suitable to roof of many brands like: Alfa Romeo, Citroen, Dacia, Fiat, Ford, Hyundai, Kia, Lancia, Mitsubishi, Nissan, Opel, Peugeot, Renault, Seat, Skoda, VW e Vauxhall
Description
AM/FM radio antenna for installation on the front of the roof.
Made with stainless steel stem, 0-90° inclinable, 30 cm long.
IMPORTANT: the hole for fixing on the roof of the car is 9 mm and the measurement of the base of the original antenna is equal to or less than 3.50x4.00 cm.
lenght 2.30 meter cable, black stem color, DIN connector end.
Included 3 different gaskets for positioning the antenna base.